All sent Anonymously!
Unless you want them to know!



Remote Control Fart Machine

All New Fart Machine 2! The Brand New Fart Machine has "BoomBox" Technology, which allows more vibrant, natural sounding Farts!
Embarrass your boss, friends, and family! Press the remote button and set off one of 15 different fart sounds! The gag works like this, simply hide the little speaker, then from up to 100 feet away, press the included remote, and the hidden speaker lets out one of 15 disgusting fart sounds.
Place this under your co-worker's desk, then when they have someone in their office, press the remote from across the office, and let the laughter begin (at their expense of course!) Caution: You May Die Laughing!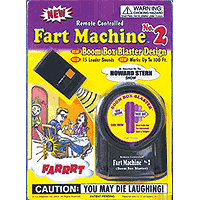 ---
Click Here for other Entertaining Packages!